It is a freeware with registry and disk cleaning, privacy protection, performance accelerator and amazing multifunctional tools. It can fix dogged registry errors, wipe off clutters, optimize internet speed, safeguard confidential files and maintain maximum performance.
It is designed for both novice and professionals. User-friendly interface shows clear & detailed directions. For novice, all work can be done with just 1 or 2 clicks, while for professionals, abundant options are available.
Free for personal use, Glary Utilities 5 is an effective and easy to like system maintenance app. Like most of the applications that fill this niche, Glary Utilities is a collection of tools, with no single use. It's a very handy thing to have installed on your PC, however, as it can help with myriad problems, as well as providing preventative maintenance to prevent problems from occurring in the first place. It's one of the best repair software for PC options available.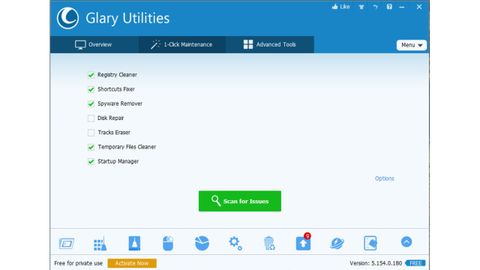 Glary utilities is free for personal use, so there's nothing stopping you from downloading it to try it out. Compared to other programs in the same sector, Glary is right up there in terms of look and feel – it doesn't seem like free software at all. That a number of skins are available for it adds to the professionalism it exudes. In fact, if all free software was this good, the commercial software sector would have a hard time staying afloat. It contains a good mixture of automatic tools and those that require you to get your hands dirty, and neatly breaks down problems into groups so you can decide what to do about them. The only slight downside to it is that the help system is completely online rather than being contained within the app, and a question-mark button that looks like it will take you to the help screen actually takes you to a customer feedback form. 
Download Glary Utilities 5 now for free
You can get the free version of Glary Utilities 5 right now, or pay for the Pro version, which is currently selling for $19.97.
Glary Utilities Pro offers numerous powerful and easy-to-use system tools and utilities to fix, speed up, maintain and protect your PC. It allows you to clean common system junk files, as well as invalid registry entries and Internet traces. You can manage and delete browser add-ons, analyze disk space usage and find duplicate files. You can also view and manage installed shell extensions, encrypt your files from unauthorized access and use, split large files into smaller manageable files and then rejoin them. Furthermore, Glary Utilities includes the options to optimize memory, find, fix, or remove broken Windows shortcuts, manage the programs that start at Windows startup and uninstall software. Other features include secure file deletion, an Empty Folder finder and more.
For the pro version, it is for the business use. You can get 30 days full function trial. When the trial period is over, you have to pay for it to get a license to activate Glary Utilities trial version.
It is 1 year subscription for up to 3 PCs. The valid service time of the license code is ONE YEAR, and you can use one license code on your 3 PCs. During the one year, you can update to any new version free of charge.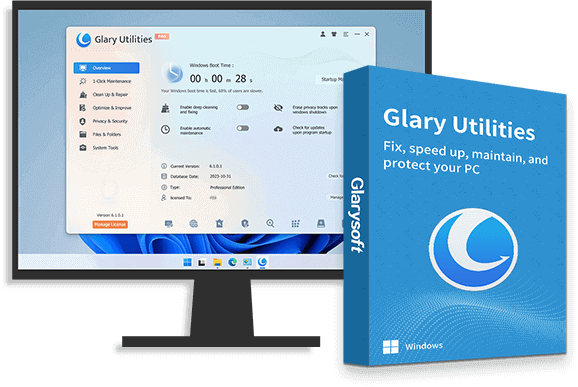 VIEW DEAL